Vintage Gae Aulenti Pipistrello Telescopic Lamp Martinelli Luce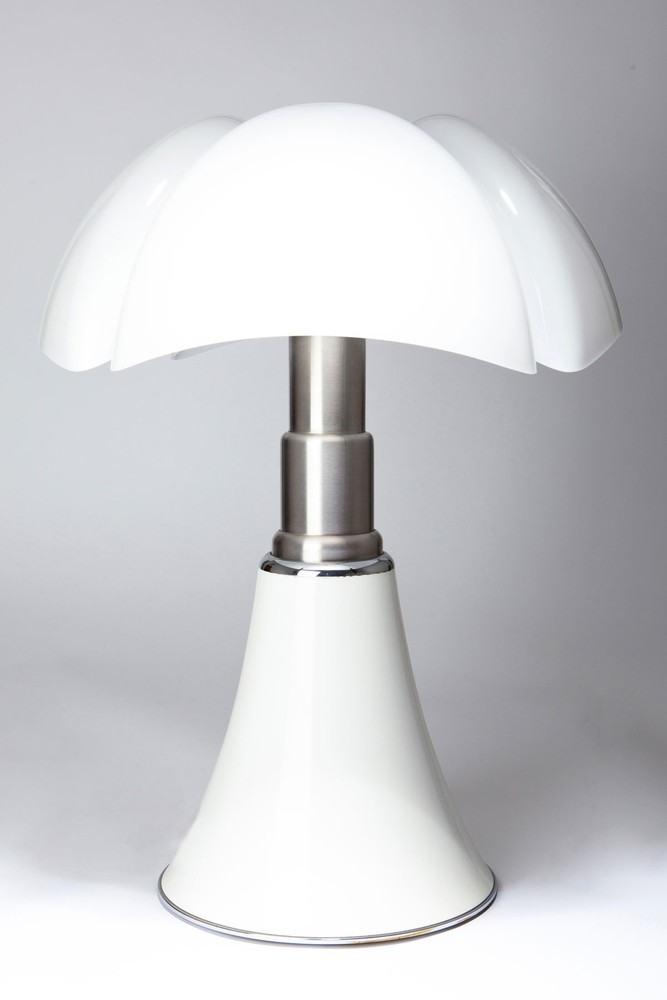 Gae Aulenti Pipistrello Lamp Design Icon - Original Vintage
Ref: L223
This original early Pipistrello lamp was designed by the multi-talented Italian designer Gae Aulenti starting in 1966 for Martinelli Luce, Italy. This lamp has become one of the classic icons of 20th Century Design. Lamp has the original white painted base, stainless steel telescope, white opal plastic "Bat" diffuser + floor switch. The height can be adjusted by it's telescopic stem (height can be set anywhere from 26" to 34") and can be used as either a table or floor lamp.
The name Pipistrello is the Italian word for "bat" which can bee seen in the the shape of this lamps shade. This lamp is featured in the permanent collections of the Centre Pompidou (Paris), MoMa (New York), The Metropolitan Museum of Art (New York), Museum des Arts Decorative (Montreal). Lamp is also featured in numerous design books.
The condition of the lamp is great with only small signs of age and careful use. Lamp retains the original "Martinelli Luce" paper label on the base, the original rubber bottom stamped: Model 620 PIPISTRELLO MARTINELLI LUCE DESIGN GAE AULENTI + foot switch with cord. Uses 4-E14 25W bulbs which come with the lamp.
Price: $1,850.00