Norman Bel Geddes
American [1893-1958]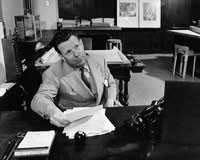 Norman Bel Geddes began his career in 1918 as scene designer for the Metropolitan Opera in New York. His imaginative designs through the years altered the landscape of an era. This skilled entrepreneur opened his industrial design studio in 1927, and designed a wide range of commercial products over the years. His designs for cocktail shakers, furniture, commemorative medallions to the Catalin Emerson 'Patriot' Radio designed in 1940 to celebrate the 25th anniversary of Emerson Radio + Television showcased his versatility.
Bel Geddes designed the celebrated General Motors Pavilion, the 'Futurama', for the 1939 New York World's Fair, his vision of tomorrow's world. Geddes metal bedroom furniture line designed for Simmons Company in 1932 was made to look like traditional wood furniture that was available at the time but was entirely fabricated of sheet metal with chrome accents.
Other notable designs by Geddes include several pieces for Revere Brass and Copper Company, including the iconic chrome Manhattan Skyscraper cocktail set. His design for the 1938 "Soda-King" Syphon Bottle for Walter Kidde Sales Company, Bloomfield, New Jersey took an orinary soda water dispenser and made it a beautiful object.