K.E.M. Weber
German-American [1889-1963]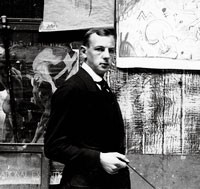 German industrial designer Karl Emanuel Martin Weber worked for numerous manufacturers in the design of modern furniture, including his 1935 Airline chair an icon of Streamline American Moderne design.
Kem Weber's work was showcased in the 1928 'International Exposition of Art in Industry' held by New York store Macy's which, in-turn cemented his reputation and he went on to design numerous products for a wide variety of companies including Widdicomb, Friedman-Silver and Lawson Time.
Many of his designs, such as the copper/brass 'Zephyr' desk clock designed for Lawson Time, suggests the forward flowing motion of time, can be classified as 'Streamline Moderne' style.  A style which was a popular style in architecture of the era, as well as in the industrial designs of his contemporaries.  Weber was especially eager to explore the possibilities of new materials and production methods, from tubular steel to the new man-made materials(Bakelite) then beginning to appear in the marketplace.  The tubular steel chairs he designed for the Lloyd Manufacturing Co. in Menominee, Michigan made it apparent that 'Streamline Moderne' was accepted.
** We are always looking to buy KEM Weber furniture, lamps + clocks as well as other top designers + art deco items from the period. Please contact us if you are looking to sell. Calls are always welcome: 305.778.2182 **
No items in this category are currently available
Please check back soon.