General Electric L-574 Catalin Radio in Black + Yellow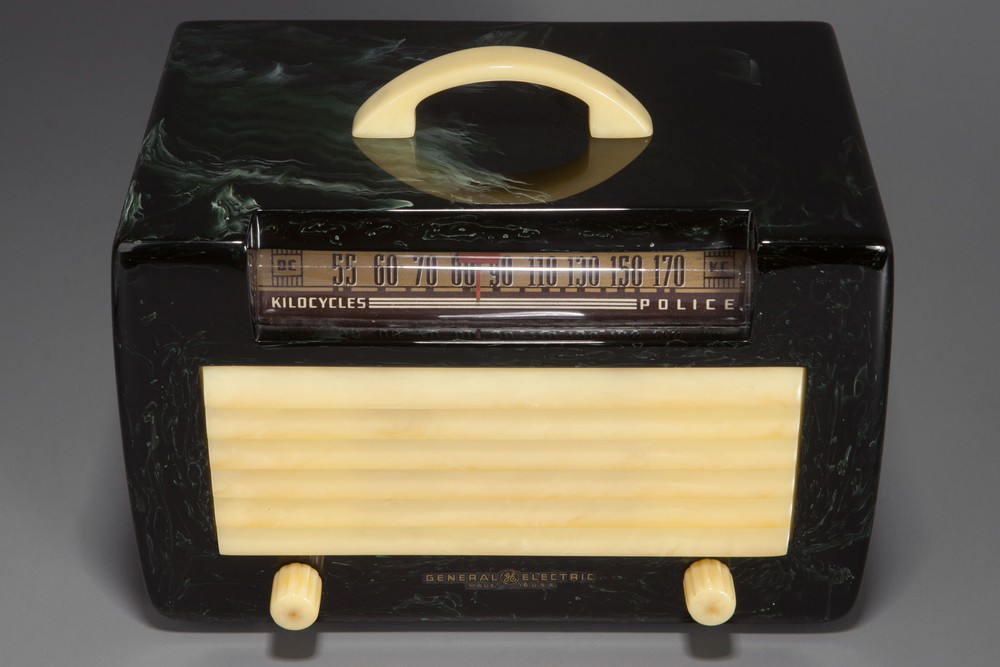 Great Stricking Color Contrast
Ref: RA511
Beautiful Deco 1941 General Electric marbled green/black with light yellow trim L-574 Catalin Radio. One of only two Catalin radios ever manufactured by General Electric and made in 1941. The design of this radio while boxy has numerous Art Deco elements such as the louvered grill and semi-circle handle. The light yellow marbleized black/dark green catalin cabinet with contrasting light yellow/alabaster trim makes for a striking color combo.
This beautiful set is in great condition with no cracks, chips, tube burns or repairs to the cabinet or trim. The light yellow/alabaster catalin trim is original to the radio and is also perfect with no chips, cracks or repairs. The catalin trim has taken on a beautiful and light yellow patina after having been polished back to the original alabaster color about 4 years ago. Radio retains the original bottom paper label and back panel. Dial plastic is a correct replacement. This great radio would make a great addition to any radio or Art Deco collection.
Radio measures: 9.5" wide x 6.25" high x 6" deep. This set is sold "as-is + untested", the chassis seems complete. Set is being sold as a "non-working" vintage electronic device that should be gone over by a qualified technician.
Price: $2,200.00