DeWald Catalin Radio 561 'Jewel' in Alabaster + Maroon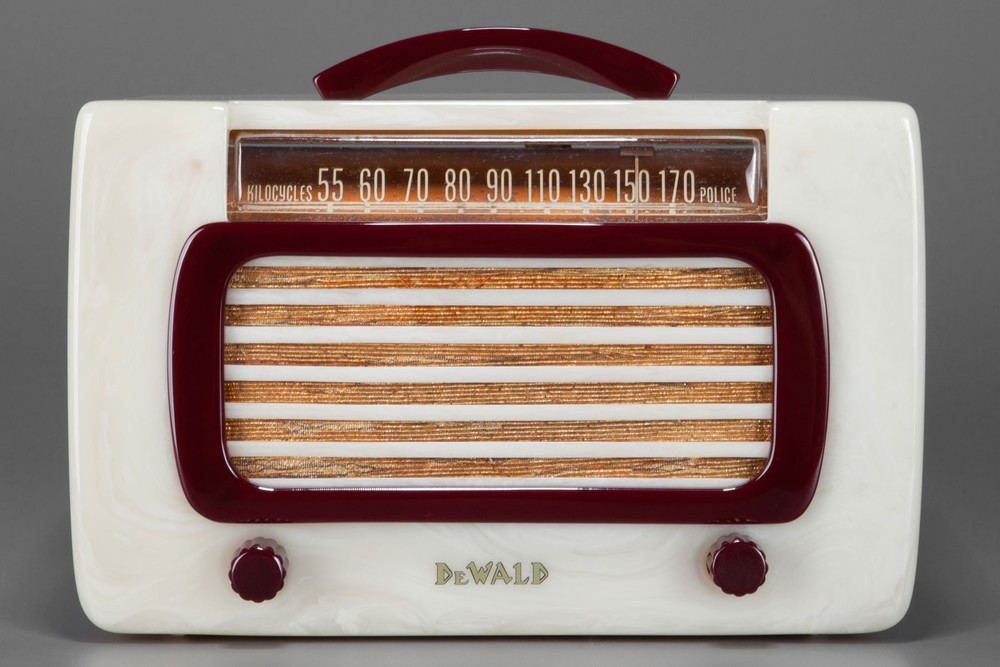 Uncommon Two-Tone DeWald Model
Ref: RA531
Catalin DeWald 561 'Jewel' Radio in alabaster with maroon trim. One of only 3 Catalin radios ever manufactured by DeWald and made in 1939. The beautiful alabaster catalin cabinet has faint white + clear marbleizing and a beautiful transparency. The original maroon trim adds contrast and style to this stunning example of a DeWald model. The design of this radio while boxy has numerous Art Deco elements such as the outline grill surrounding the grill slits, semi-circle handle and fluted knobs. This is an uncommon DeWald model to find in any color combination.
Radio cabinet has no cracks, chips, hairline or repairs. The maroon trim is all original with no cracks, or repairs. Grill cloth is original to the radio. Dial plastic + decal are exact replacements. Radio has been polished back to its factory original alabaster color from its oxidized butterscotch coloring. This great radio would make a great addition to any radio or Art Deco collection.
Radio measures: 9.5" wide x 6.25" high x 6" deep. This set is sold "as-is + untested", the chassis seems complete. Set is being sold as a "non-working" vintage electronic device that should be gone over by a qualified technician.