Alvar Aalto
Finnish [1898-1976]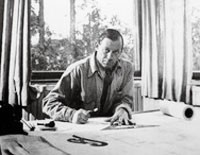 Alvar Aalto was a Finnish architect and designer known for his organic, humanist contributions to the modernist movement. While designing the Paime Sanitorium starting in 1928 he worked on both the building itself and the furniture to be contained within, whereas he could address the psychological and aesthetic needs of its patients. Notable from this effort include the Paimo Chair, inspired by the tubular steel designs of Marcel Breuer, by using molded wood and plywood he wished to not only create an organic flowing piece, but also "specifically to ease the breathing of patients".
Where Alvar Aalto's contemporaries were intent on producing furniture based on industrial innovations in plastics and metals of the time, Aalto was also concerned with addressing complex human needs in furniture design resulting in a "humanistic modernism".
No items in this category are currently available
Please check back soon.