Steuben Art Deco Glass Gazelle Lamp on Bakelite Base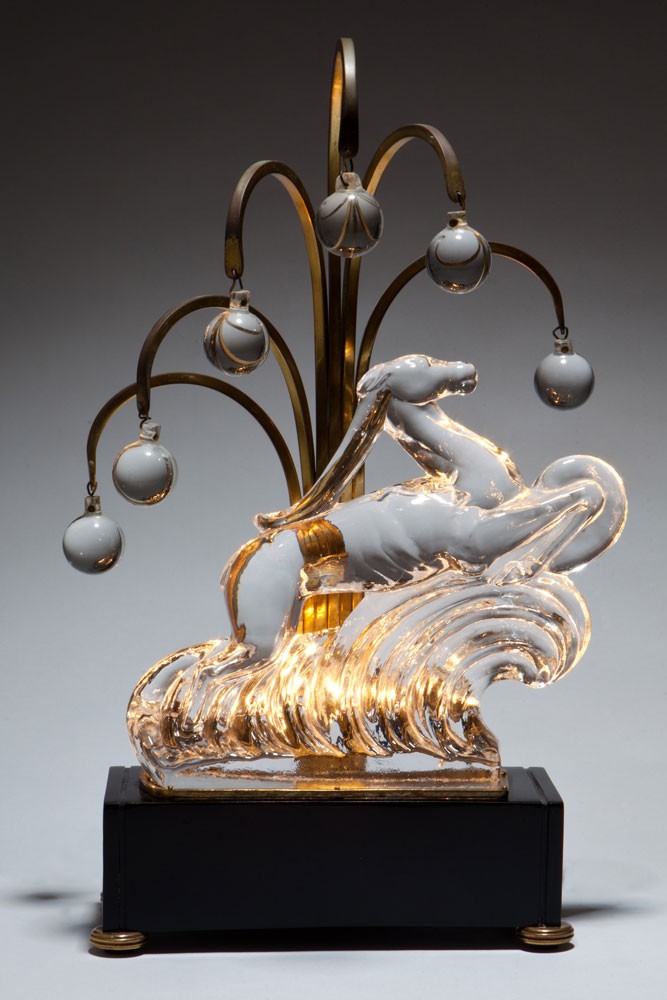 Rare + Beautiful Steuben Art Deco Lamp with Black Catalin Base
Ref: L222
Art Deco Steuben glass Gazelle Lamp mounted on a black Catalin / Bakelite base with dangling crystal spheres made in conjunction with lamp manufacturer Lightolier during the 1930's. The beautifully molded glass gazelle sculpture is illuminated from within the Bakelite base with a single bulb giving off a soft glow. Steuben founder Frederick Carder and sculptor Sidney Waugh are credited for the designing the beautiful leaping gazelle - shape 7399 in the Steuben catalog.
This lamp is wonderful when lit as the soft glow of light flows through the glass gazelle accentuating all detail in the animals body and reflecting up to the crystal spheres perched from the abstract brass tree.

Engraved "Steuben" on the base of gazelle. Lamp has been rewired and is in working condition. Glass gazelle has minor flat nicks beneath the base where it fits into base, not noticeable unless sculpture is removed from base. Jet black Bakelite base has been cosmetically repaired/restored due to a heat damage, it is impossible to see the repair and in no way detracts from the beautify and rarity of this lamp.

Gazelle measures approximately: 8" high by 6.5" long by 2.5" deep - brass tree brings the total height of the lamp to 13"