Splendid Pair of Iron Sea-Wyvern Antique Lamps - Monumental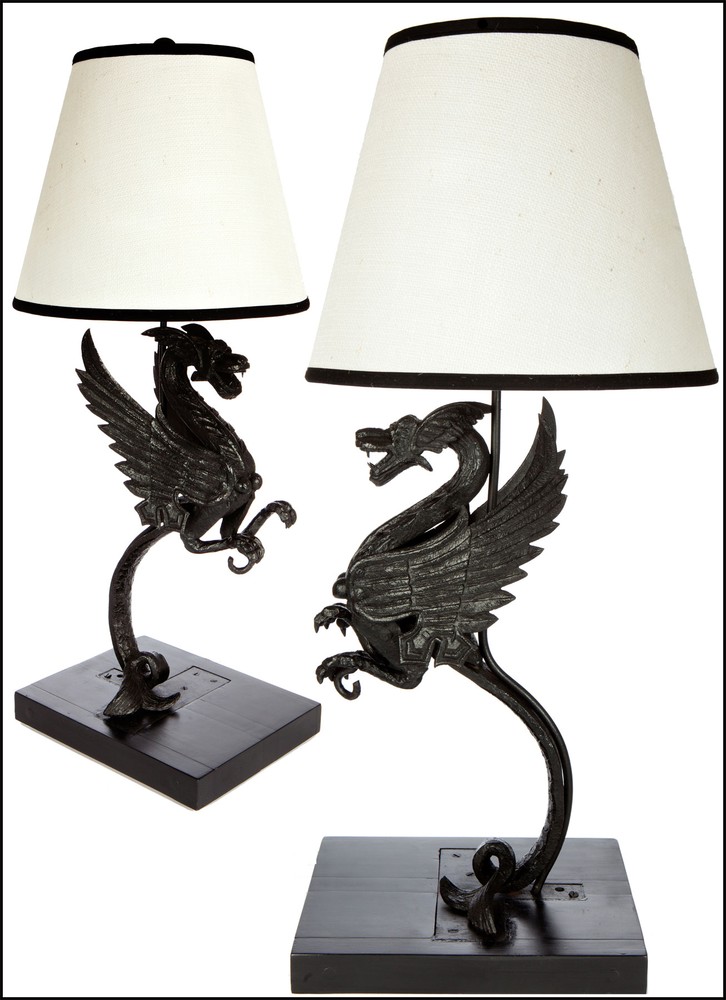 Antique Hand-forged Iron Lamps with Wonderful Detail
Ref: L224
Impressive statuesque antique hand-forged Sea-Wyvern iron pair of lamps.  These medieval antique lamps were originally mounted on an entrance-way façade + originally held fire burning torches in their claws. This great pair of antique hand-made wrought iron lamps have wonderful detail + masterful craftsmanship. The hand-made craftsmanship is evident as each lamp has slightly different unique detailing. These lamps make a statement when displayed and used.
The wyvern is a legendary winged creature with a dragon's head, two legs, reptilian body, + a barbed tail, which may be said to breathe fire. These are the sea-dwelling variants, termed the sea-wyvern, which has a fish tail in place of a barbed dragon's tail.
These beautiful heavy lamps are in great condition + sit on rustic black painted wood bases. They have been re-wired and are currently working. Shades are replacements in a cream burlap material with applied black linen edges. The manner in which these torches were converted to lamps in no way altered the original sea-wyvern sculptures/torches.
Lamps each measure approximately: 40" to the top of shade + black wood base measures 12" by 14".