Motorola Radio 50XC Catalin 'Circle Grille' in Oatmeal - Beautiful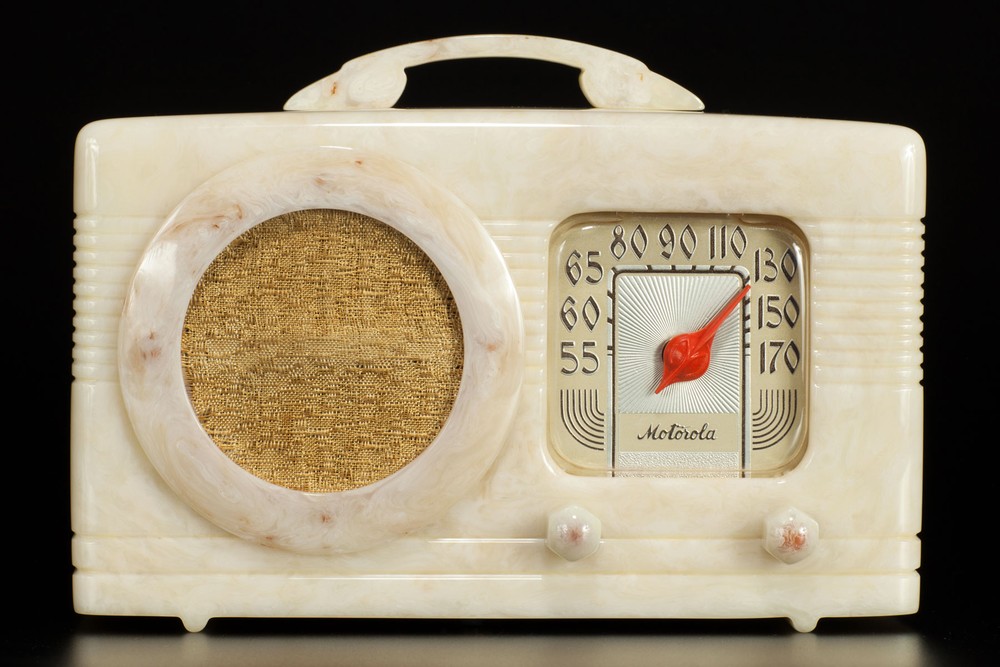 Art Deco Streamline Catalin Motorola Circle-Grille Radio
Ref: RA507
Catalin Motorola Model 50-XC-3 'Circle-Grille' Radio in highly marbleized oatmeal with matching oatmeal Catalin trim. The Motorola 50XC is a magnificent, exquisitely crafted Art Deco radio manufactured in 1940 by Motorola Radio. This radio is also known to collectors as the 'Circle Grille'. This Motorola design is considered one of the most appealing sets of its time beautifully designed in the Art Deco Style. The Catalin has a deep shine that makes its oatmeal color glow + show off exceptionally striking, clear, white, and brown marbleizing that makes it stand out from other Catalin radios.
The details are unique with its round Catalin speaker bezel, scalloped handle, and hexagonal knobs. The cabinet features streamlined ridges that stretch around the case bringing all the elements together. The golden dial face is also decorated with deco numerals and sunburst designs that emanate from a red plastic dial pointer with the letter "M" cast in to it.
This radio's beautiful catalin cabinet is in perfect original condition with no cracks, chips, tube burns, or repairs. The radio retains its original oatmeal catalin trim with no cracks, chips or repairs. Radio has been polished back to its original oatmeal color from it's oxidized pumpkin coloring. The gold fabric grill cloth is original to the radio and shows some wear consistent with age. Cardboard back panel is original to the radio. Dial plastic cover is a correct replacement.
This radio measures approximately: 9.5" wide by 5.75" high by 5.5" deep. This set is sold "as-is + untested", the chassis seems complete. Set is being sold as a "non-working" vintage electronic device that should be gone over by a qualified technician.