Catalin Motorola 52 'Vertical Grill' Radio - Marbleized Green + Yellow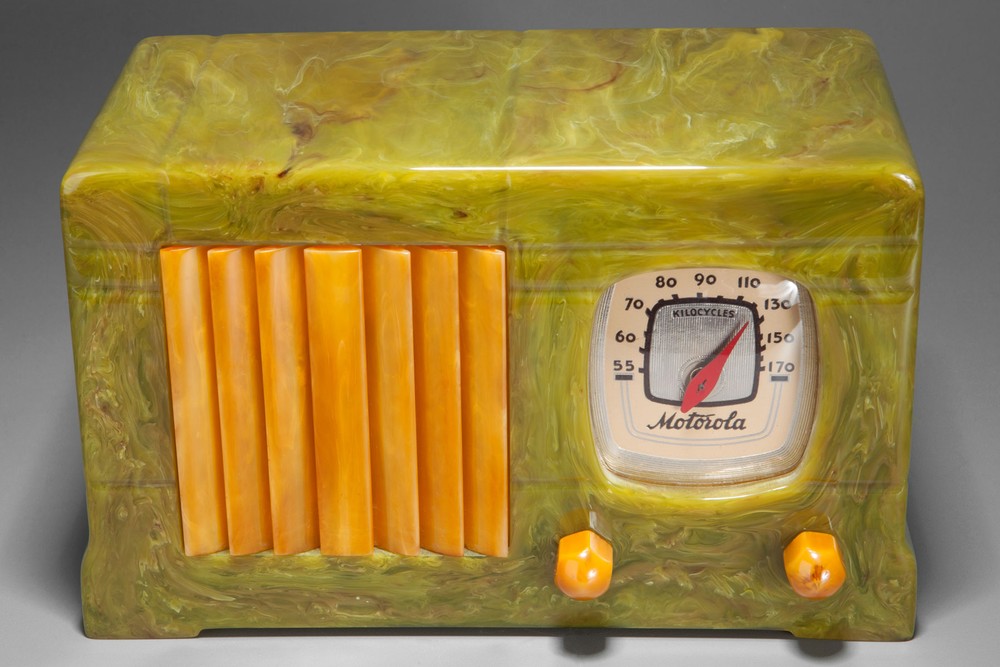 Stunning Art Deco Motorola "Vertical Grill" Catalin Radio
Ref: RA510
Catalin Motorola 52 'Vertical Grill' radio in marbleized green with butterscotch trim is the first in a series of three different Catalin cabinet radios produced by Motorola. Manufactured in 1939 by Motorola Radio also known to collectors as the 'Vertical Grill'. This Motorola design highlights the Art Deco elements of the era. The green is highlighted by swirls of light yellow, brown and clear to add depth to the color. This beautiful radio would make a fantastic addition to a collection.

The details in the design are unique with its vertically louvered grill which feathers out from the center to the left + right and hexagonal knobs make for an unusual design and highly sought after radio. The cabinet features streamlined hand incised ridges that stretch around the case bringing all the elements together while adding to the geometric aspect of the radio. The golden dial face is also decorated with deco numerals and the Motorola logo written in script. This is an exquisitely crafted Art Deco radio.

This stunning radio is in excellent condition with no cracks, chips, tube burns or repairs to the cabinet. Butterscotch knobs and grill are original to radio and in great condition. Radio retains the original paper manufactures label affixed to the bottom of the cabinet and the cardboard back panel. Dial plastic is a correct replacement. Radio has been well taken care of and only shows some scratches consistent with age + careful use.
Measures approximately: 9.4" wide x 5.75" high x 4.4" deep. This set is sold "as-is + untested", the chassis seems complete. Set is being sold as a "non-working" vintage electronic device that should be gone over by a qualified technician.