Harold Van Doren
American [1895-1957]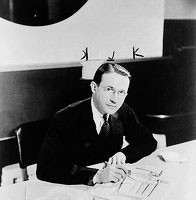 Harold L. Van Doren was one of the most groundbreaking designers of the early 20th century. Van Doren was a prolific industrial designer and created numerous iconic streamlined design items including toys, Air King Skyscraper radios, fans, etc.
Van Doren opened a design office in 1931 in partnership with John Gordon Rideout in Toledo, OH. During this time they designed a colorful, art deco skyscraper public health scale for their first client, the Toledo Scale Company, and in 1933 they designed the iconic Air King "Skyscraper" radio made of Plaskon available in different colors for Air King Products, New York. At the time the Skyscraper model from Air King was the largest piece of molded plastic manufactured. In 1934 they designed a trend-setting streamline sheet metal gasoline pump for the Wayne Pump Company. That same year, Van Doren was among a number of pioneering industrial designers featured in a 1934 Fortune magazine article written by architect/designer George Nelson.
During his lifetime his office designed a range of streamlined children's bicycles, tricycles, scooters, and wagons in 1935 for the American National Company, and for Toledo Scale, a lightweight, modern "Sentinel Duplex" retail scale, using the largest plastic molding of the time.
** We are always looking to buy DHarold Van Doren Air King Radios and furniture as well as other top designers + art deco items from the period. Please contact us if you are looking to sell. Calls are always welcome: 305.778.2182 **