Gilbert Rohde Clock 6381 for Herman Miller Rare Pre-Production Model - Art Deco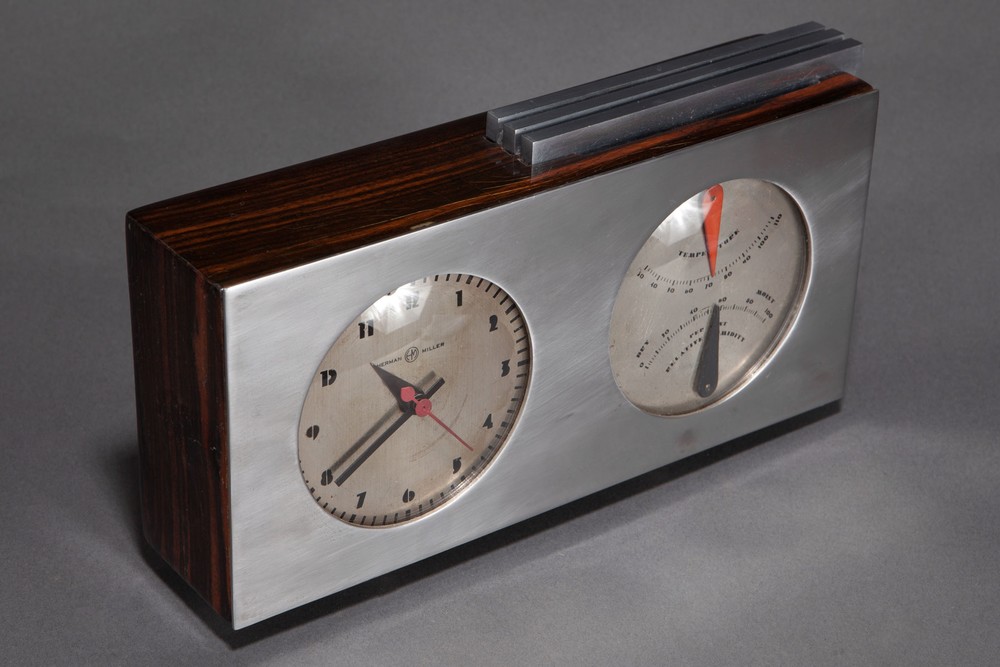 Rare + Beautiful Gilbert Rohde Clock with Thermometer/Humidity Gauge
Ref: CL118
Rare Gilbert Rohde Art Deco clock from the series of clocks designed for Herman Miller with "Air-Guide" feature. The clock is Number 6381 in the Herman Miller company literature and was shown in the 1937 catalog. Strong Art Deco elements are at the very heart of this model's design, including the brushed nickel plated face plate with the black footed case of Macassar Ebony, + three brushed metal speed-lines affixed to the top of clock. The brushed silver painted clock + "Air-Guide" thermometer/humidity faces have streamline numerals, red + black hands, and a red second hand that heighten the appeal of this rare clock. This is a truly a striking design.
This clock varies from the standard model 6381 in 3 ways: the face is marked Herman Miller, the "puck" feet on the bottom of case are smaller in diameter, model # not stamped into case bottom.  This is believed to be an early production or prototype of this model.
The condition of this is all original showing some crazing on the Macassar Ebony finish and some cracking of the veneer on the left side(see photo).  Both dial glasses are original with no cracks or chips. Dial faces are original and show some light wear consistent with the age of the clock. The clock is fitted with the original movement with starter wheel that is in working condition at this time. Power should be replaced.
Clock case can be refinished if requested + a new cord installed.
Clock measures 5.75" high by 10" wide by 2.25" deep. There is no guarantee of accuracy with clock keeping time. If you wish to use it daily, it is recommended you have a qualified professional service it, as it may need lubrication and calibration.