George Nelson "Masonite" 4767 Mid-Century Table Howard Miller Clock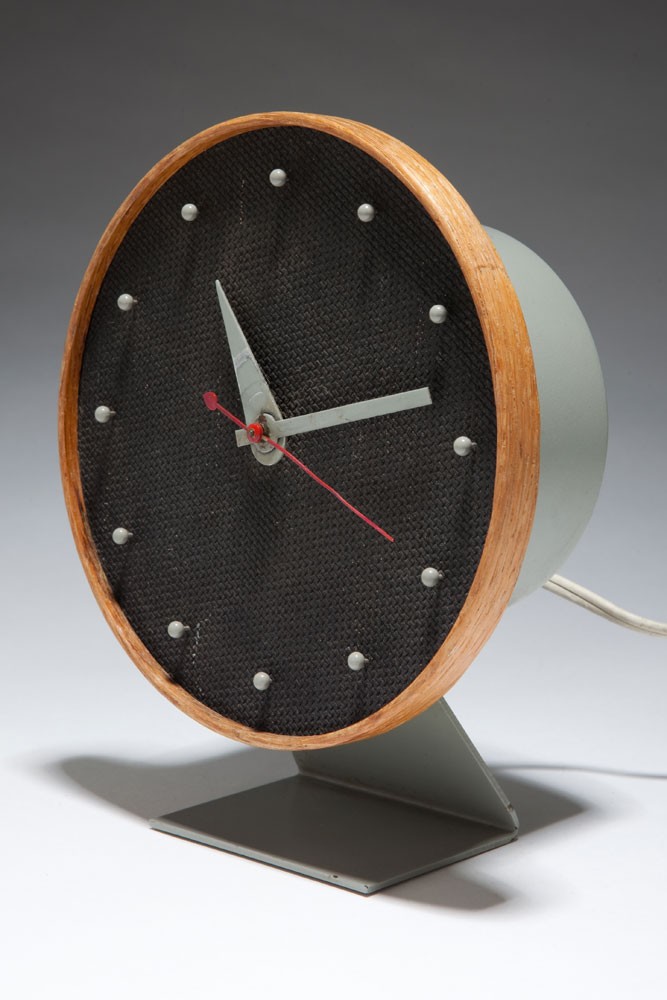 Early 1949 Nelson Design with Map-Pin Hour Markers
Ref: CL106
Rare 1949 George Nelson designed "Masonite", wood and metal table clock made by Howard Miller clock Company of Zeeland, Michigan. Showcased is an early and rare version of the "Masonite" 4767 clock. The large round clock face with a thin band of wood surround, bent metal base that gently leans back and the map-pin hour markers truly showcase George Nelson's use of a wide variety of materials and design elements.
Clock is in great original condition and signed with decal manufacturer's label on the back of wood clock case - this beautiful clock has not been touched. Dark gray Masonite face has a few small white marks as well as the wood face surround. The original enameled gray metal base + gray lacquered wood clock body has some minor paint wear consistent with age and careful use. Aluminum hands are original are close to perfect and the often missing red second hand has a slight bend in it. Clock is in working condition with a long cord.
Clock Measures approximately: 7" high with base by 3" deep. There is no guarantee of accuracy with it keeping time. If you wish to use it daily, it is recommended you have a qualified professional service it, as it may need lubrication and calibration.
Price: $2,750.00