Federal Radio Corp.
Buffalo, NY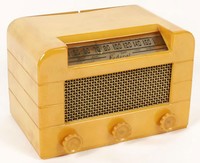 The Federal Catalin Bakelite radio features a gold toned metal mesh grill, art deco etched speed-lines, 3 fluted Catalin knobs + a full matching color Catalin back. This model art of the 1024 series of radios manufacured by Federal Telegraph and Radio Corp. in the 1940's.
** We are always looking to buy Federal Catalin Bakelite Radios in any color or condition as well as other Catalin, Plaskon + Bakelite radios by any manufacturer. Please contact us if you are looking to sell a radio. Calls are always welcome: 305.778.2182 **
No items in this category are currently available
Please check back soon.