Fada 'Temple' 652 Catalin Radio in Plum + Butterscotch Open-Face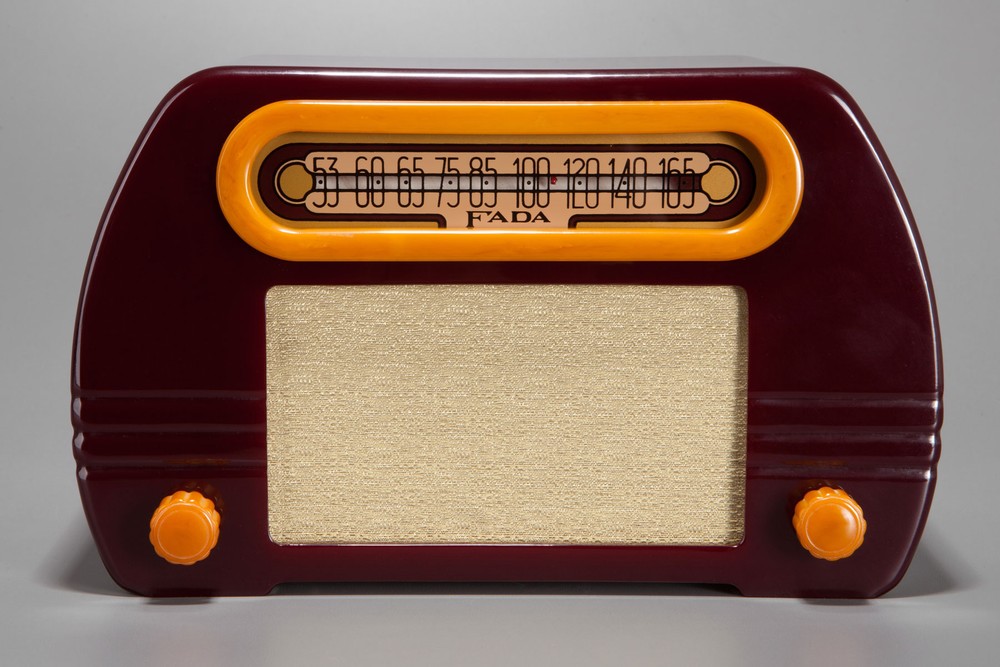 Uncommon FADA 652 'Open-Face' Model
Ref: RA519
Beautiful Art Deco FADA 'Temple' Catalin radio Model 652 in plum with butterscotch trim. The seldom seen open-face model was part of the 1940-1942 radio lineup.The catalin cabinet retains the factory gloss, and the butterscotch trim adds contrast and style to this stunning example of a FADA Temple model.
This maroon and yellow FADA 652 has no cracks, chips, nicks, repairs or tube burns. The butterscotch catalin dial surround and fluted knobs are original to this radio and in perfect condition with no cracks, stress lines, chips, breaks, burns or repairs. Radio retains the original manufactures stick affixed to the bottom. Reverse painted dial glass is an exact replacement for the original one, which often is damaged on this model. The grill cloth is a period correct replacement. This beautiful FADA has been well taken care of and has very few small scratches consistent with light use.
This radio is as clean as one can be found and would truly make a great addition to any radio or Deco collection.
Radio measures approximately: 10.85" wide by 6.75" high by 5.75" deep. This set is sold "as-is + untested", the chassis seems complete. Set is being sold as a "non-working" vintage electronic device that should be gone over by a qualified technician prior to use.
Price: $575.00