FADA 200 Series 'Bullet' Catalin Radio in Marbelized Blue + Yellow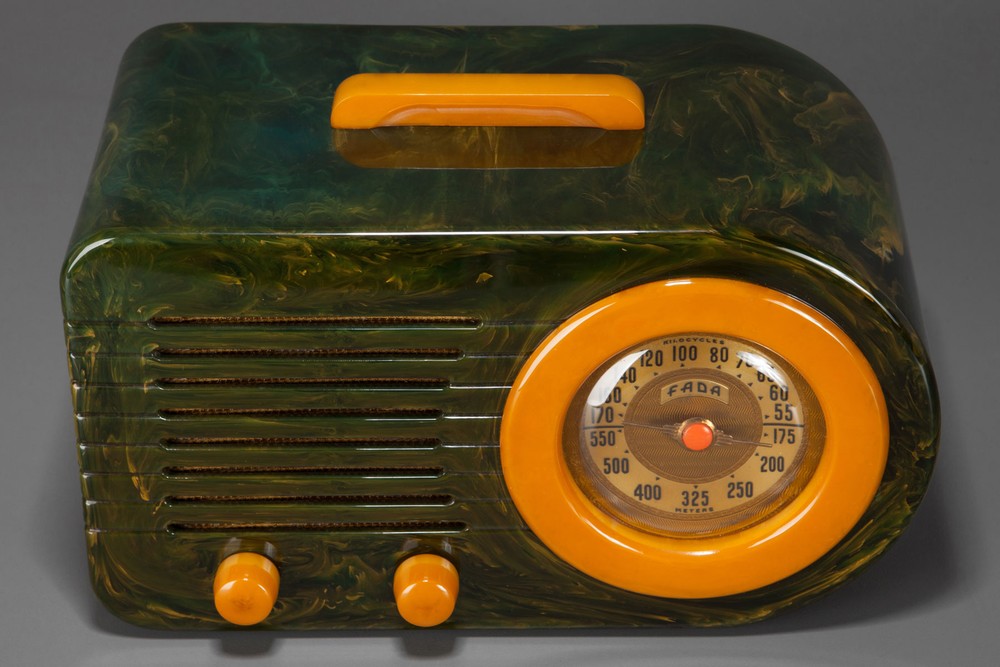 Stunning + Rare Example 200 Series Blue FADA Bullet
Ref: RA530
Rarely seen FADA 'Bullet' 200 Series in Blue with Butterscotch Catalin radio with incredible intense marbling - this is a beautiful + original Art Deco radio. The bluish-green patina on this radio is beautiful - radio has only been lightly polished to a high gloss. The green(blue) colored cabinet has intense veins of yellow with tones of blue running through it that makes this an incredible example. The 200 Series differs from the Model 1000 in that it has specific sharp-edge gumdrop knobs, different grill cloth, dial face with different numbering + triangular station markers and dial pointer with an orange plastic center. This radio styling epitomizes 1940's Streamline design with its sleek rounded lines that suggest speed and practicality, hallmarks of streamlined industrial design from those years. FADA produced many radios and televisions over the years, but its Catalin radios, particularly the 'Bullet' are the best-known models.
The glossy Catalin cabinet is perfect with no cracks, chips or repairs and has beautiful intense marbleizing that really adds depth to the cabinet. The yellow trim with its 200 Series sharp edged gumdrop knobs, bezel and handle are original to the radio. Radio retains the original gold and silver 200 Series grill cloth in great condition. The 200 Series gold 'gemloid' dial face with different numbering + triangular station markers is different from the standard Model 1000. Radio retains the original and correct stickers on the bottom of the cabinet, + cardboard back panel in great condition. Dial plastic is a correct replacement. This beautiful FADA has been well taken care of and has very few small scratches consistent with light use.
This highly marbleized rare 200 Series blue and yellow Fada 'Bullet' is as clean as one can be found and would truly make a great addition to any radio or Deco collection.
Radio measures approximately: 10.85" wide by 6.75" high by 5.75" deep. This set is sold "as-is + untested", the chassis seems complete. Set is being sold as a "non-working" vintage electronic device that should be gone over by a qualified technician prior to use.