Emerson BT-245 Catalin Radio in Oxblood + Ivory 'Tombstone'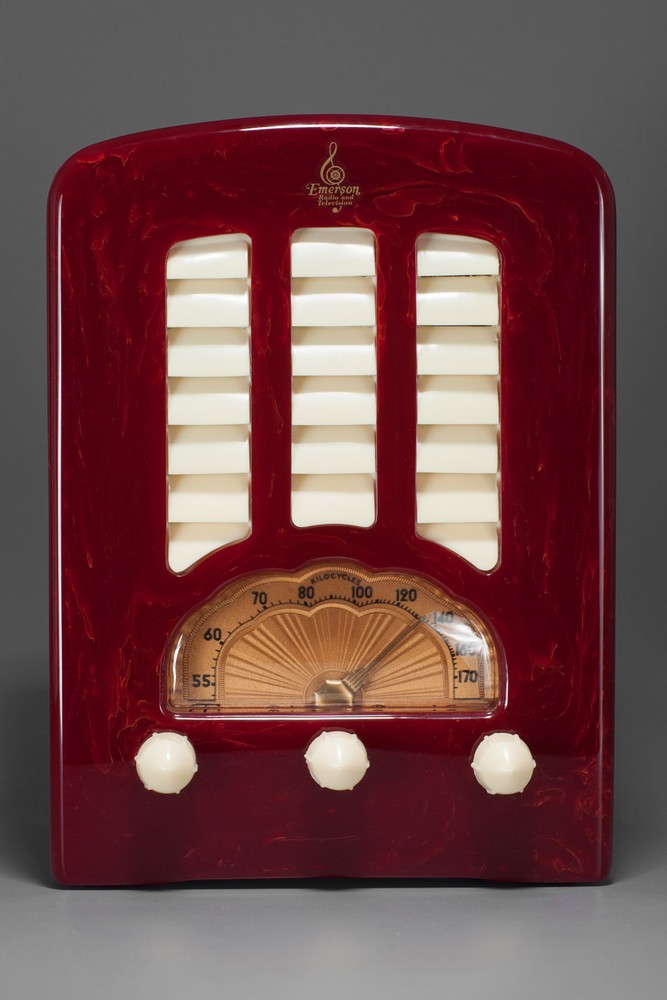 Stunning Tyrolean Red Art Deco Catalin Emerson Radio
Ref: RA506
Emerson BT-245 'Tombstone' Catalin radio in marbleized oxblood red with ivory trim. The oxblood cabinet has marbleizing that really adds depth. The oxblood/raspberry red color is brought out with its contrasting ivory louvered grill + knobs. The tombstone design of this radio combined with the great color really makes for a stunning Art Deco radio. The marbleized 'Tyrolean Red' or oxblood cabinet with the contrasting ivory tenite/plastic trim makes for a rare + striking color combination.
The radio's cabinet has been polished to an incredible gloss. Cabinet is in perfect condition with no cracks, chips, tube burns or repairs. This models fragile plastic grill and knobs, which are prone to deterioration, have been replaced with correct replacements. Water-slide decal and dial plastic are correct replacements.
Radio measures approximately: 7" wide by 10" high by 5" deep. This set is sold "as-is + untested", the chassis seems complete, cord is cut. Set is being sold as a "non-working" vintage electronic device that should be gone over by a qualified technician prior to use.