Emerson AX-235 'Little-Miracle' Radio Marbleized Red Catalin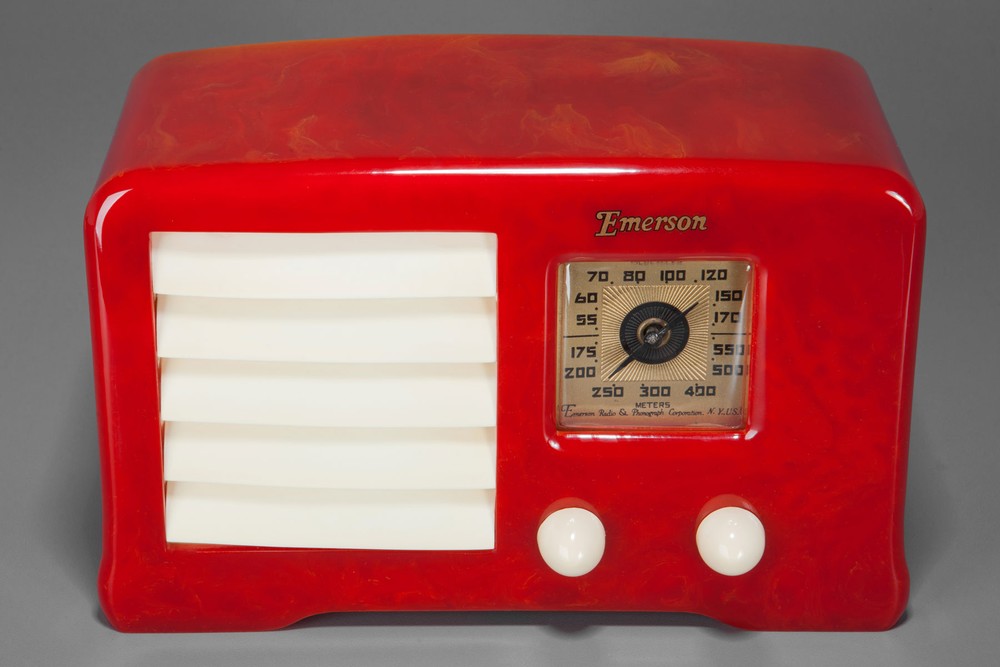 Original Ivory Tenite Trim - Perfect Radio
Ref: RA532
Marbleized Red Catalin Emerson AX-235 'Little-Miracle' Radio. Made in 1938 by Emerson Radio + Television is Emerson's first example of a small catalin radio that also features a unique louvered insert grill. The small size of this radio combined with the great color and contrasting trim really makes for a stunning Art Deco radio. The marbleized red cabinet with the contrasting ivory tenite/plastic trim makes for a rare + striking color combination.
This beautifully marbleized + bright red cabinet is in perfect condition with no cracks, chips, warp, tube burns or repairs. Cabinet retains the original factory gloss and the ivory tenite/plastic trim is original to the radio. This models fragile plastic grill + knobs which are prone to deterioration are original + beautiful condition showing only a very mild warp on the grill. Radio retains the original manufactures label on the bottom of cabinet. Dial plastic and decal are correct replacements.
Radio measures approximately: 8.85" wide by 5.25" high by 3.75" deep. This set is sold "as-is + untested", the chassis seems complete. Set is being sold as a "non-working" vintage electronic device that should be gone over by a qualified technician prior to use.