Crosley G1465 Catalin Radio 'Split-Grille' - Black + Butterscotch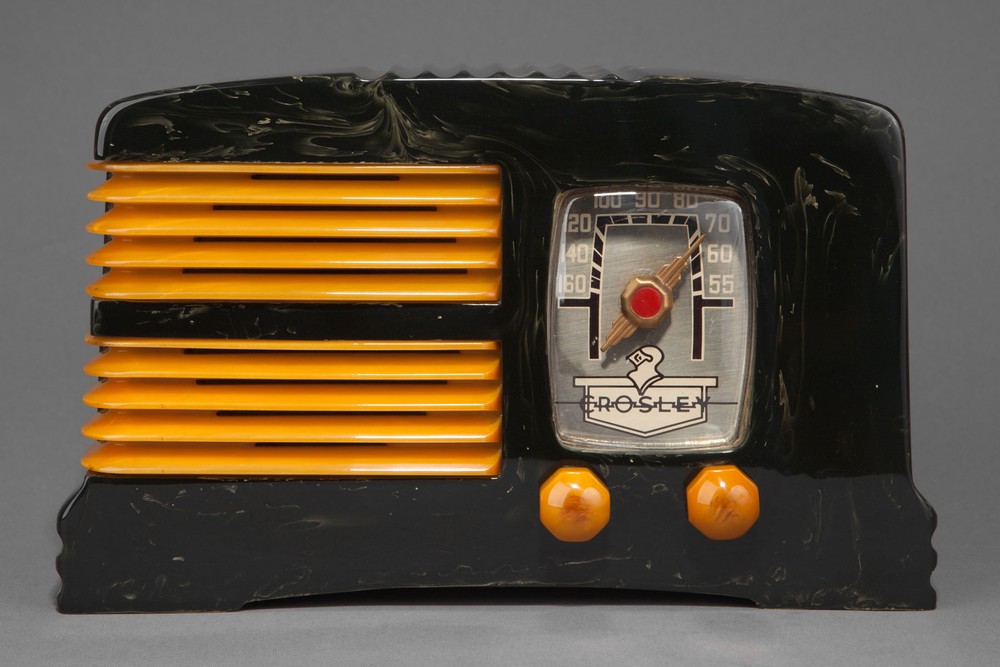 Seldom Seen Black Swirled Crosley Catalin Deco Radio
Ref: RA318
Crosley G1465 catalin radio in beautifully marbleized dark green/black case and butterscotch trim. The Crosley 'Split-Grille' manufactured in 1938 by manufactured by Moffats Limited, Weston, Ontario has wonderful deco elements incorporated into the design. The catalin has a deep shine, rich color, glow and also has exceptionally striking yellow marbleizing that add dimension to the radio. This radio original radio is a stunning example of this Crosley model.
The marbleized cabinet has no chips, burns or repairs. Radio has one small tight hairline on the bottom left corner of the grill opening that is hard to see when radio is displayed. All trim is original to radio and in perfect condition with no cracks, chips or repairs. Retains original manufacturers paper label on bottom. Clear dial plastic cover is a replacement.
Radio measures approximately: 9.5" long by 5.75" high by 3.75" deep. This set is sold "as-is + untested", the chassis seems complete. Set is being sold as a "non-working" vintage electronic device that should be gone over by a qualified technician.