Catalin Emerson '5+1' EP-375 Radio in Butterscotch + Rare Brown Handle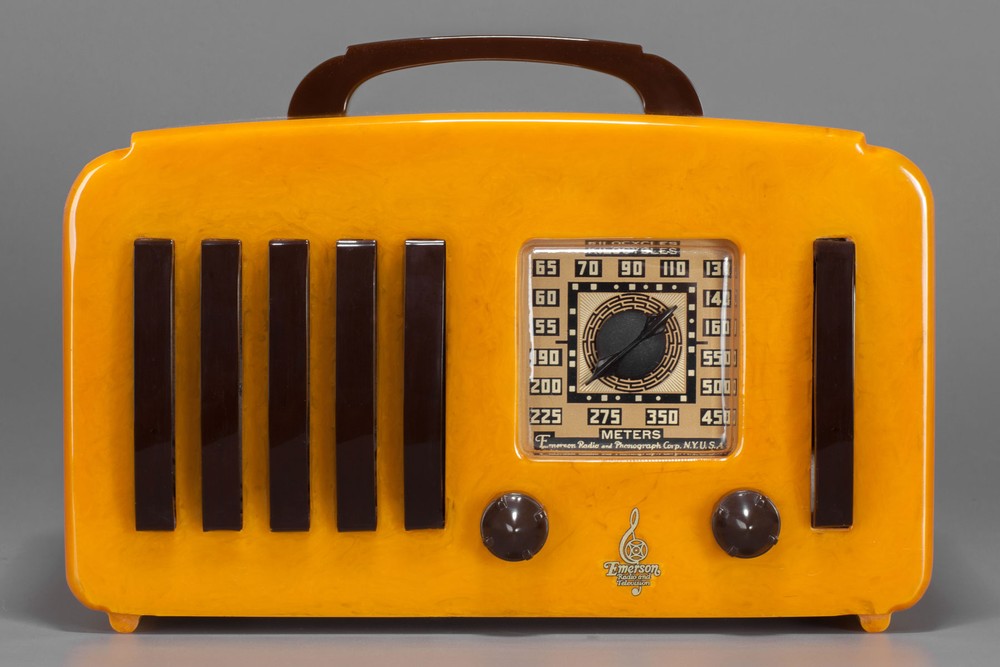 Emerson Catalin '5+1' with No Rivets and Brwon Catalin Handle
Ref: RA536
Emerson EP-375 '5+1' catalin radio in desirable marbled butterscotch with brown trim with rare handle and no rivets. This example has the ultra rare chocolate brown catalin handle that matched the trim and not the more often seen butterscotch. The warm butterscotch cabinet with specks of brown and lighter yellow running through it makes the radio stand out from others. This model with a handle + no rivets is the rarest variation of Emerson 5+1's. This original radio has taken on a beautiful rich butterscotch patina which is only accentuated by the brown + yellow that runs throughout the cabinet adding depth to a great radio.
Beautiful marbleized catalin cabinet + brown catalin handle are perfect with no cracks, chips or repairs. Radio has original brown plastic grille bars and knobs. The Emerson water-slide decal and dial plastic are correct replacements. Radio has small scratches, scuffs consistent with age + use of set. This radio is absolutely stunning and would make a fantastic addition to a collection.
Radio measures approximately: 9.5" wide by 5.75" high by 4.75" deep. This set is sold "as-is + untested", the chassis seems complete. Set is being sold as a "non-working" vintage electronic device that should be gone over by a qualified technician prior to use.