Stunning Art Deco Herman Miller Clock with Brass Trim + Exotic Wood Veneer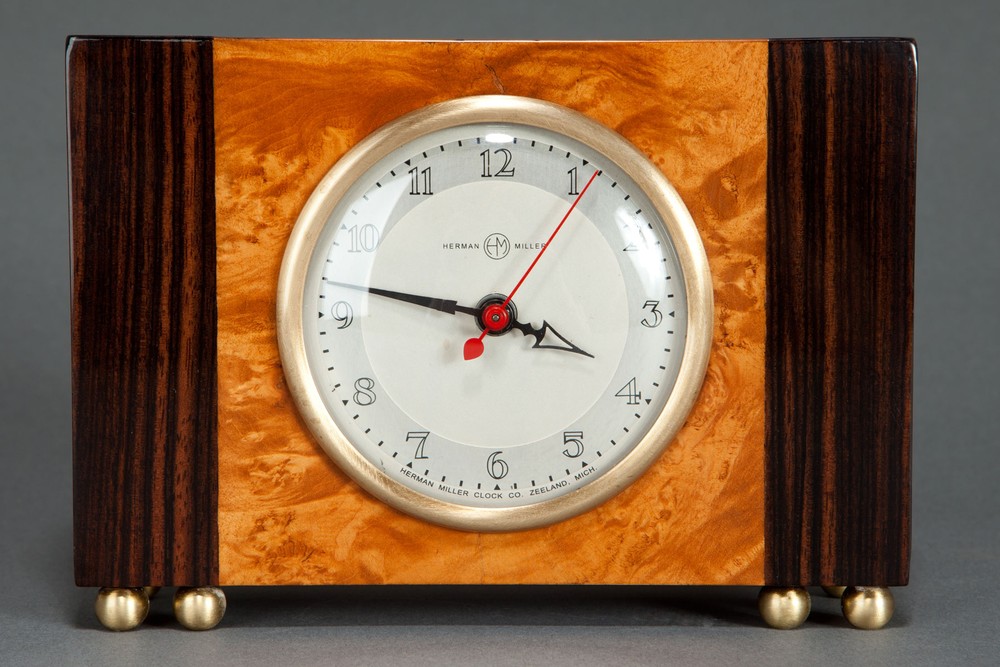 Beautiful Art Deco Rohde Clock with Brass Trim + Exotic Wood Veneer
Ref: CL119
Beautiful Gilbert Rohde attributed Art Deco clock made for the Herman Miller Clock Company in Zeeland, Michigan. This model is pictured in their 1935 and 1937 catalogs and is shown as # 4717. Strong Art Deco elements are at the very heart of this model's design. The case of Maple Burl + Macassar Ebony makes the clock stand out. The dial is silver plated with lithographed numbers. The bezel around the convex glass covering the face is brushed brass, as are the six ball feet.
The condition of this clock can only be described as near mint. Wood case has been refinished and looks great with a beautiful lustre. Brass trim has been cleaned. The clock is fitted with the original manual starting electric movement with starter wheel that is in working condition at this time. Power cord has been replaced with a period correct replacement.
This table clock measures approximately: 5.25" high by 7.75" wide by 2.0" deep. There is no guarantee of accuracy with it keeping time. If you wish to use it daily, it is recommended you have a qualified professional service it, as it may need lubrication and calibration.
Price: $975.00