Addison 2 'Waterfall' Catalin Art Deco Radio in Merlot + Yellow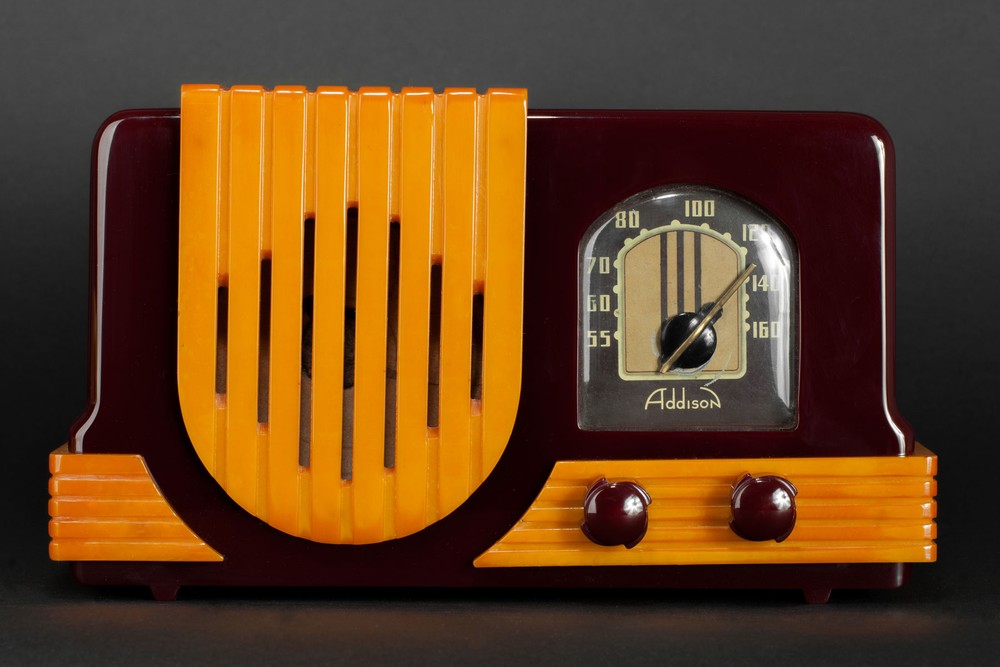 Beautiful 2-Tone All Original Catalin Addison Radio
Ref: RA535
Beautiful Catalin Addison Radio 2 'Waterfall' in Maroon with Butterscotch trim made circa 1940 by Addison Industries Limited in Canada. The unique Art Deco styling, bold use of color, and Deco dial make this a truly beautiful radio. This stylized Art Deco radio features the famous 'waterfall' speaker grill trim and surround 'bumpers' with speed-lines that really make for a streamlined radio design.
The deep plum color is brought out even more with its contrasting yellow trim. The radio is in original, untouched condition, and is just a stunning example of this catalin Addison model. The glossy catalin cabinet is in excellent condition with no cracks, chips, tube burns or repairs. The yellow catalin trim is complete + factory original to the radio and has no cracks, chips, burns or repairs. The original matching maroon catalin 'pinwheel' knobs are also perfect. Manufactures paper label is still affixed to the bottom of cabinet. Clear dial plastic cover is a replacement.
Radio measures approximately: 10.25" long by 6" high by 5" deep. This set is sold "as-is + untested", the chassis seems complete. Set is being sold as a "non-working" vintage electronic device that should be gone over by a qualified technician.